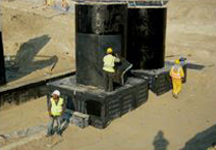 Yas Island Development - Construction of Potable Water Tank including Water transmission lines
Contract A430101/2007/C/079
Client : Aldar Properties
Consultant : Halcrow International Partnership
Value : AED 118.6 Million
Duration : November 2007 to December 2008
Location : Abu Dhabi
The construction of a potable water tank project is part of Aldar Properties' Yas Island development program.
The project comprises the construction of a 120,000 m3 potable water tank of 155 m x 155 m x 7.5 m, noting that the scope included the construction of a valve chamber, testing, chlorination and commissioning.
SCOPE OF WORKS
The excavation of existing ground material, and cart away to a spoil site a total volume of 310,000 m3
Dewatering of the excavated area, permitting the construction of the tank base, walls, and all supporting infra structure and utilities
The casting of slab walls and roof in sequence with the approval of the appointed consultant
Installation of all required pipe work, instrumentation, waterproofing, chlorination, backfilling as per the consultant's specifications
---------------------------------------------------------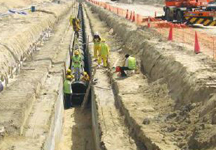 EXPANSION & MAINTENANCE OF TAWEELAH TO AL AIN WATER TRANSMISSION SYSTEM
Contract N-1918
Client : ADWEA - Transco
Consultant : MWH
Value : AED 69.9 Million
Duration : June 2003 to June 2004
Location : Abu Dhabi
As requested in the scope of contract N-1918, NBHH carried out the design, supply and installation of equipment, an all relevant civil and electromechanical works in the existing station.
SCOPE OF WORKS
Four additional pumps at Ajban, 2273 m3/h capacity 216 m head
Four additional pumps at Sweihan 2273 m3/h capacity 229 m head
Surge suppression equipment Taweelah, Ajban and Sweihan
Piping work at Taweelah, Ajban and Sweihan
Electrical work including MV and LV panels and VFD installations
Instrumentation, control and automation system upgrading
Ventilation and air conditioning system upgrading
Conversion of Ajban Palace pumping station to remotely operated station
Surge analysis system
Verification of Hydraulic performance of suction pipe works
Hydraulic assessment to upgrade Al Ain reception pumps
Investigation of the hydro performance of the existing P.S.V's.
Thermodynamic study
Upgrading of the existing control system
Pressure sustaining valve for Ajban and Sweihansites
New VFD building and associated electromechanical works
New air compressor room at Taweelah
Dismantling of 1200 mm diameter joints at Ajban and Sweihan
---------------------------------------------------------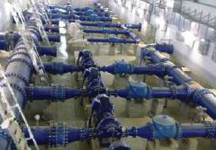 WATER SUPPLY – WESTERN REGION
Contract G1095
Client : ADWEA
Consultant : Mott Mc Donald
Value : AED 23.4 Million
Duration : June 2002 to June 2003
Location : Abu Dhabi
Contract G1095 covers the construction of reservoirs, tanks, pipes networks and other related works for the supply of water within the western region in Abu Dhabi.
SCOPE OF WORKS
Design and construction of two steel tanks 1 MIG capacity each in Sir Bani Yas Island. The scope includes:
Topographical and services location survey at site
Cathodic protection system
Refurbishment of existing pump station
Installation of related pipes and miscellaneous civil structures such as valve chambers
Construction of Water Supply Works at Tarif, Rhadeem and Dhaiyah. The scope includes:
Topographic and services location survey
Demolition of existing structures
Design and construction of 1 MIG capacity reservoir
Design and construction of two pumping stations
All electromechanical and instrumentation works
Pipes distribution network, connections and valve chambers
Design and construction of an office and accommodation building for the staff
---------------------------------------------------------